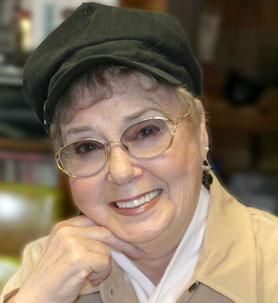 Berrie Butrick
Beads By Berrie
12308 Fenstermaker Rd.
Garrettsville, OH 44231

---
"I'D LIKE TO TEACH THE WORLD TO BEAD, IN PERFECT HARMONY!" is my motto. If I can teach as many people as possible to enjoy beading as much as I do , my mission will be accomplished.

After cutting and polishing stones for 30 years, I began beading around them which opened a new world to me. I am nationally known as a designer and instructor, teaching two classes a day in Quartzsite, Arizona during January and February. When I am not teaching or demonstrating at some club or show, I teach in my shop in Ohio. I have also taught several classes in Australia. One of my designs has appeared in Carol Rodgers new book" Beaded Jewelry with Found Objects."

I've had articles about me in a number of beading magazines. Dichroric glass and wire work can be added to my accomplishments. I am thrilled to add the Bead&Button Show to my resume for a three years in a row.

Berrie passed away in 2011. Many of her works are available for purchase.